I always say that anyone who has known me for 15 minutes knows that kids that want to play music have my heart. For quite awhile now, I had accepted instruments that people wanted to give to a new home. I have found students to pass them onto. However I am always looking to help more children make the dream of owning their own instruments.

Click the picture above to watch the WWL "Neighborhood Heroes" video.

Scroll down to learn more.
---
Leslie Cooper
Recently a program called "Hungry for Music" showed up with a van load of instruments for me to find homes. I am always able to find homes for any instrument you donate.
---
Some Instruments Need Repair
---
I have also been given several horns and drums that need some work. I am not asking for anyone to do the work for free but I need a little help so I can make this happen sooner for the kids.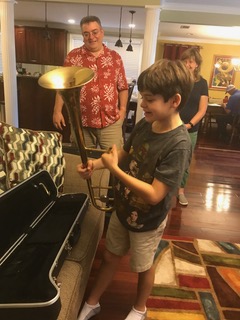 Your Donations Make A Difference
---
Please consider giving that trumpet that has lived in your closet since high school or maybe that clarinet that has been under the bed at your parents house. Maybe your kids decided that music was not the art form they wanted to follow. I will find homes for them. If you can help, it would make the difference in many young music students lives.